PowerPoint 2010 – Expert
---
Our Microsoft Office PowerPoint Expert courses are intense one day courses meant for people that use PowerPoint every day in their workplace. They follow on from the learning in the Boot Camp course. If you are not using PowerPoint in your current workplace we suggest that you will need to do the Boot Camp before you do this course.
You will learn how to use the advanced features of PowerPoint 2010. This workshop is designed to go beyond a basic understanding and to explore the more advanced features of PowerPoint 2010 in a practical way. This workshop incorporates a hands-on approach to learning. You will get a chance to practice some of the advanced features right on a computer.
PowerPoint 2010 is a powerful presentation for the presentation of visual and graphical items. You can do everything from creating the simple slides to developing an animated presentation with audio.
Cost $350 (Includes GST)
Package Deal: Buy 2 Microsoft courses get one free.
Course Covers
We will cover such topics as:
Insert a picture
Insert screen shots
Insert clip art
Insert SmartArt
Insert a text box and add text
Insert a Table and add text
Resize, move, and delete a picture, text box, or SmartArt
Remove a picture's background
Modify table rows and columns
Format a table
Add a movie
Draw shapes
Align and distribute objects
Order objects
Set the Language
Add Notes to Slides
Create a Notes Master
Use the Slide Master tab
Create a Slide Master
Record a presentation as a video
Package your presentation for CD
Understand the PowerPoint Viewer
We will also cover such topics as:
Understand and adjust PowerPoint views
Work with multiple presentation windows
Add commands to the Ribbon or the Quick Access Toolbar
Configure PowerPoint Options
Use custom slide sizes
Change the slide orientation
Crop a picture
Change or reset a picture
Compress pictures
Apply shape styles or outlines
Add hyperlinks to graphical elements
Change the audio clip picture
Manipulate animations
Work with comments
Rehearse timings
Resources
A printed training manual is provided.
Prior Knowledge
An intermediate knowledge of PowerPoint is required. Basic computer and keyboard skills are required.
Course Times
Our classes run from 9am to 5pm. We run classes every week of the year.
Where do I go to attend the course?
CBD training rooms in Sydney are located in the heart of the city across the road from the Apple store on George St. If traveling on train, get off at Town Hall and walk down towards Circular Quay on George St for 2 blocks. Exact address: Suite 1, Level 10, The Dymocks Building, 428 George St, Sydney.
Cancellation policy
We are unable to refund monies for students who do not turn up for classes or decide at a later date after booking that that they do not want to attend. Changes to class times are allowed, but not within 48 hours of the class commencing.
Quick Enquiry Form
Please complete the form below to submit your enquiry:
Why Choose CBD College
CBD Location
Courses Every Week
Highly Experienced Trainers
Face-to-Face Teaching
Nationally Recognised Training

Package Deal
---
---
Call 1300 616 218 To Book.
Win an iPad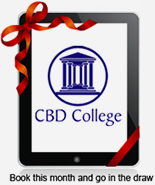 Book securely online 24/7 with CBA security. Credit card bookings prior to the day of your first aid course are essential as class sizes are strictly limited.
Our Clients
Just a few of our satisfied customers. View all clients.
---
Our Guarantee