Outlook and PowerPoint 2013 – Boot Camp
---
Our Microsoft Office PowerPoint and Outlook Boot Camp courses are intense one day courses that give you all the essential knowledge you need for most job positions. They are ideal for people starting TAFE or University, upskilling, starting new jobs or re-entering the workforce.
You will learn how to use the basic features of Outlook 2013. This workshop is designed to provide a good understanding of Outlook 2013. You will be shown a practical way of learning with a hands-on and customizable approach. You will get a chance to experience some of the new features that are offered in Outlook 2013.
Outlook 2013 helps you manage your busy life through its calendar and social connectors. With Outlook 2013 you are given a sleeker more efficient way to organize and communicate. With a new and improved user interface and a more powerful search tool you will increase their productivity as you will be able to manage your information more efficiently!
You will learn how to use the improved features of PowerPoint 2013. This workshop is designed to get into the advanced features of PowerPoint 2013. You will be shown a practical way of learning with a hands-on and customizable approach. You will get a chance to experience some of the new features that are offered in PowerPoint 2013.
PowerPoint 2013 is the world's premier presentation software. With PowerPoint 2013 you are provided a new landing screen which makes launching and creating documents easier than previous versions. There is also an improved Presentation View with gives your presentations that extra focus. PowerPoint 2013 also has an improved user interface with an array of powerful tools to help you share your presentations through Skydrive!
Cost $350 (Includes GST)
Package Deal: Buy 2 Microsoft courses get one free.
Course Covers
We will cover such Outlook topics as:
Setup an Email account
Use the Outlook interface
Read and work with messages
Send new email
Organize messages in folders
Search for items
Use the Calendar
Use the Task list
Use Contacts
We will cover such PowerPoint topics as:
Work with shapes, text boxes, and pictures
Use SmartArt
Use alignment guides, object order, and other advanced drawing tasks
Use tables
Work with audio and video
Use PowerPoint's research tools
Use presenter view and notes
Use slide masters to create consistent slide elements
Perform additional types of presentation delivery
Resources
A printed training manual is provided.
Prior Knowledge
No prior knowledge of Outlook is required. Basic computer and keyboard skills are required.
Course Times
Our classes run from 9am to 5pm. We run classes every week of the year.
Where do I go to attend the course?
CBD training rooms in Sydney are located in the heart of the city across the road from the Apple store on George St. If traveling on train, get off at Town Hall and walk down towards Circular Quay on George St for 2 blocks. Exact address: Suite 1, Level 10, The Dymocks Building, 428 George St, Sydney.
Cancellation policy
We are unable to refund monies for students who do not turn up for classes or decide at a later date after booking that that they do not want to attend. Changes to class times are allowed, but not within 48 hours of the class commencing.
Quick Enquiry Form
Please complete the form below to submit your enquiry:
Why Choose CBD College
CBD Location
Courses Every Week
Highly Experienced Trainers
Face-to-Face Teaching
Nationally Recognised Training

Package Deal
---
---
Call 1300 616 218 To Book.
Win an iPad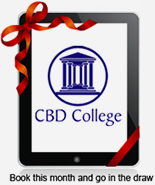 Book securely online 24/7 with CBA security. Credit card bookings prior to the day of your first aid course are essential as class sizes are strictly limited.
Our Clients
Just a few of our satisfied customers. View all clients.
---
Our Guarantee