Excel 2010 – Boot Camp
---
Our Microsoft Office Excel Boot Camp courses are intense one day courses that give you all the essential knowledge you need for most job positions. They are ideal for people starting TAFE or University, upskilling, starting new jobs or re-entering the workforce.
Excel is the world's premier spreadsheet software. You can use Excel to analyse numbers, keep track of data, and graphically represent your information. You will learn how to use the basic features of Excel 2010. This workshop incorporates a hands-on approach to learning. You will get a chance to practice some of the basic features right on a computer.
With Excel 2010, you can manage more data than ever, with increased worksheet and workbook sizes. Excel also makes your job easier by providing an easy to use interface, and an array of powerful tools to help you turn your data into usable information – and better information leads to better decision making!
Cost $350 (includes GST)
Package Deal: Buy 2 Microsoft courses get one free.
Course Covers
We will cover such topics as:
Module One: Getting Started
Module Two: Opening and Closing Excel
Opening Excel
Understanding the Interface
Using Backstage View
Understanding Worksheets
Understanding Workbooks
Module Three: Your First Worksheet
Entering Data
Entering Dates
Entering Numbers
Entering Text
Editing Data
Adding Rows and Columns
Checking Your Spelling
Module Four: Working with Excel Files
Saving Files
Publishing Files to PDF
Sending Files via E-Mail
Closing Files
Opening Files
Module Five: Viewing Excel Data
An Overview of Excel's Views
Switching Views
Creating Custom Views
Using Zoom
Switching Between Open Files
Module Six: Printing Excel Data
An Overview of the Page Layout Tab
Setting Up Your Page
Using Print Preview
Printing Data
Module Seven: Building Formulas
The Math Basics of Excel
Building a Formula
Editing a Formula
Copying a Formula
Using the Status Bar to Perform Calculations
Module Eight: Using Excel Functions
Formulas vs. Functions
Using the SUM Function
Using Other Basic Excel Functions
Understanding the Formulas Tab
Using the Status Bar to Perform Calculations
Understanding the New Function Names
Module Nine: Using Cut, Copy and Paste
Using Copy
Using Paste Special
Module Ten: Using Time Saving Tools
Using AutoFill
Using AutoComplete
Sorting Data
Filtering Data
Adding Sparklines
Module Eleven: Formatting Your Data
Changing the Appearance of Text
Using the Wrap Command
Changing the Appearance of Numbers
Setting Alignment Options
Using Merge
Removing Formatting
Adding Rows and Columns
Hide and Unhide Rows and Columns
Renaming Sheets
Module Twelve: Advanced Formatting Tools
Adding Borders
Adding Fill Color
Using Cell Styles
Using Conditional Formatting
Changing the Theme
Module Thirteen: Creating Charts
Inserting a Chart
Overview of the Chart Tools Tab
Understanding the Parts of a Chart
Changing the Chart Style
Resizing and Moving the Chart
Add a Trend Line
Using Secondary Axes
Using Chart Templates
Module Fourteen: Wrapping Up
Resources
A printed training manual is provided.
Prior Knowledge
No prior knowledge of Excel is required. Basic computer and keyboard skills are required.
Course Times
Our classes run from 9am to 5pm. We run classes every week of the year.
Where do I go to attend the course?
CBD training rooms in Sydney are located in the heart of the city across the road from the Apple store on George St. If traveling on train, get off at Town Hall and walk down towards Circular Quay on George St for 2 blocks. Exact address: Suite 1, Level 10, The Dymocks Building, 428 George St, Sydney.
Cancellation policy
We are unable to refund monies for students who do not turn up for classes or decide at a later date after booking that that they do not want to attend. Changes to class times are allowed, but not within 48 hours of the class commencing.
Quick Enquiry Form
Please complete the form below to submit your enquiry:
Why Choose CBD College
CBD Location
Courses Every Week
Highly Experienced Trainers
Face-to-Face Teaching
Nationally Recognised Training

Package Deal
---
---
Win an iPad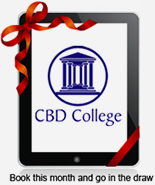 Book securely online 24/7 with CBA security. Credit card bookings prior to the day of your first aid course are essential as class sizes are strictly limited.
Our Clients
Just a few of our satisfied customers. View all clients.
---
Our Guarantee